Mscan v3.4   (6 April 2022)
Analysis software for use with the 35mm Preservation Microfilm Scanner Evaluation, and a 4×5 film target from Image Science Associates.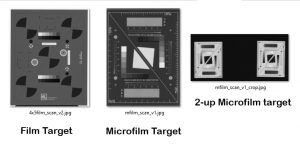 Software updated, 6 April 2022:  The edge Spatial Frequency Response (e-SFR) evaluation now uses the updated ISO12233 method with polynomial edge-fitting (sfrmat4).
Software: Download mscan software for Windows here.
This software requires the installation of Matlab runtime libraries (2022a), available here.
Installation and User's Guide available here
Film Targets are available from Image Science Associates