EI02: Introduction to Image Quality Testing: Targets, Software, and Standards
Short Course at IS&T's Electronic Imaging Symposium, San Francisco 29 Jan. 2017
Instructors: Peter Burns, Burns Digital Imaging, and Don Williams, Image Science Associates
8:00 – 10:00 AM (2 hours)
Course Level: Introductory
Fee: Member fee*: $165 / Non-member fee: $195 / Student fee: $60 *(after January 9, 2017 prices for all courses increase by $50, $25 for students). To register for symposium and/or short course. Early registration date, 9 Jan. 2017.
An introduction to  imaging performance evaluation for image capture, providing a foundation for more advanced topics, e.g., system characterization and performance benchmarking. We adopt a scenario-based approach by describing several situations where imaging performance needs evaluation. Each of these, from design to quality assurance for manufacturing, is addressed in terms of suggested methods, color test charts, and standard reporting. For several important attributes, we describe international standards, guidelines, and current best practice. Examples are drawn from various applications, including consumer, museum, mobile, and clinical imaging. We will help participants to;
Understand the difference between imaging performance and image quality.
Describe performance standards, guidelines, and current best practices.
Understand how color-encoding, image resolution, distortion, and noise are evaluated.
Compare various commercial analysis software products and (color, resolution) test charts.
Select evaluation methods and test targets to meet your project needs.
Identify sources of system variability and understand measurement error.

Intended Audience: This course is intended for a wide audience: image scientists, quality engineers, and others evaluating digital camera and scanner performance. No background in imaging performance (optical distortion, color-error, MTF, etc.) evaluation will be assumed.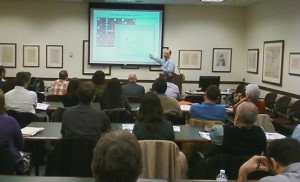 Instructors:  Peter Burns is a consultant working in imaging system evaluation, modeling, and image processing. Don Williams is founder of Image Science Associates. Both are frequent presenters at technical imaging conferences.
Information on all EI 2017 Courses
_______________________________________________________________________________________
NOTE: Students who register for EI before the early registration deadline receive one complementary short course with their symposium fee.