Coming up at the end of January  IS&T's Electronic Imaging Symposium 2017. Having participated in the organising and presented over the years, the meeting provides a an opportunity to connect with a rather large group of friends, former colleagues, and clients. The meeting includes several tracks of 2-3 day topical conferences, spanning a wide range of interests. I participate mostly in the IQSP Conference – chairing a session on Tuesday, 31 Jan.
Image Quality and System Performance Conference (IQSP):  Our sessions are described here.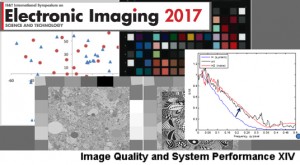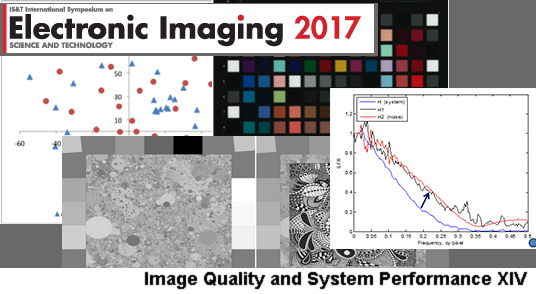 Short Courses:
Don Williams and I will be presenting a short course, Introduction to Image Quality Testing: Targets, Software, and Standards on 29 Jan. 2017. We introduce imaging performance evaluation and provide a foundation for more advanced topics, e.g., system characterization and performance benchmarking. 

Our two-hour course is intended to complement other courses held later in the day;
EI09: Color and Calibration in Mobile Imaging Devices, 

Uwe Artmann

EI11: Introduction to the EMVA1288 Standard, Armaud Darmont
EI12: Psychophysics Lab: In Depth and Step-by-Step, Stephen Viggiano
Consider joining us in San Francisco.
– Peter Burns