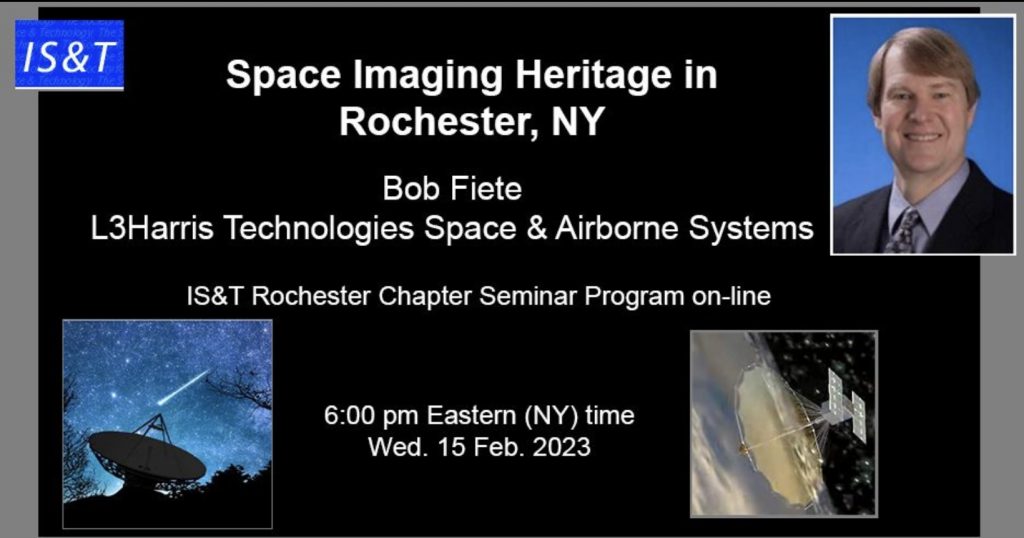 On 15 Feb. Bob Fiete presented a talk as part of the Society for Imaging Science and Technology (IS&T) Rochester NY chapter seminar series.
When we see the images taken from satellites on the evening news, from the Russian invasion of Ukraine to the distant galaxies captured by the James Webb Space Telescope, most people don't realize the significant role played by a group of talented people in Rochester, NY to make these images a reality. This talk will look at the history of imaging technologies and the pioneering accomplishments in Rochester, NY that give us these amazing images from space.
Dr. Bob Fiete is Chief Technologist and Senior Fellow at L3Harris with over 40 years of experience in imaging science. He was Director of R&D for ITT Space Systems Division and has chaired conferences and seminars on imaging and optics. He has briefed the White House and US House of Representatives, and worked with law enforcement on cases image exploitation.
Here is the video,